Above: Quan Yin by River. I thought
appropriate with the way Arwen speaks
the River, and seems to have a parallel
mission as Quan Yin....
Below, speaking of dualities, I was amazed to find this
picture in a shopping catalogue. This girl could actually
portray a real arwen look-alike. Her face is very very
close to how Arwen appeared to me. All she needs is
long pointy ears.......
I don't think whoever she is would mind being put on
this site, since she appears in a catalogue anyway....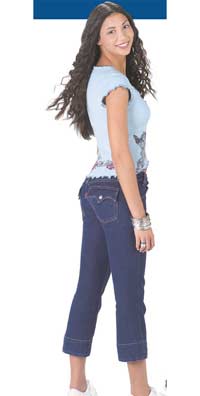 Added 2/26/04 ~ I am not a follower of Buddhism, although I practiced some Buddhist meditation before. I am a follower of Jesus Christ, and believe that in order for a person to truly experience spiritual freedom, they must come to know Jesus as their Lord and Saviour. I am open enough to question the many revelations I've had, including Arwens, and other beings from the spirit world.
There are a few things on these pages I've come to question recently. The EXPERIENCES themselves were ALL real. My questions deal with wether or not the messages come from spirits following the One true God, or some other source.
Go to The Prophets Crucible link on home page for further revelation about Jesus Christ....
I pray God touches all who find these pages.